In-Ground Trampolines Kits for Sale
Trampolines offer families endless hours of entertainment and healthy physical activity outdoors. When installed below ground, they offer even more benefits including increased safety for family members and less maintenance on your end.
In-ground trampoline kits offer all the gear you need for a speedy installation, especially when you work with Trampoline Holes Utah. We dig trampoline holes and professionally install kits for you so that you can relax knowing that your trampoline was installed just right.
Find ground level and underground trampoline kits at affordable costs right here on our site. We also install and repair in-ground trampolines purchased elsewhere. Buy in-ground trampolines today and let the fun begin!
Different Parts of an In-Ground Trampoline
Wondering more about what's included in your in-ground trampoline kit? Keep reading to find more detailed specifics on the separate components that make up an in-ground trampoline.
Trampoline Mat, Springs, and Frame
This is the skeleton of your trampoline. For trampolines specifically designed for below ground installations, the frame will generally be made of a strong steel. Being underground and away from the elements, this frame should last longer than above-ground trampoline frames. The metal springs are sturdy and rust-resistant as well, especially when covered with a trampoline pad (read more about trampoline pads below).
The trampoline mat size is usually 2 feet smaller than the frame's diameter. So, for example, our 14 ft in-ground trampoline has a 12 ft trampoline mat size.
Trampoline Retaining Wall
Several in-ground trampoline kits will come with a trampoline retaining wall. This is a crucial component necessary to keep the dirt in place and prevent a cave-in in the trampoline hole. Check out our Trampoline Retaining Wall page for additional information on your options for a secure retaining wall.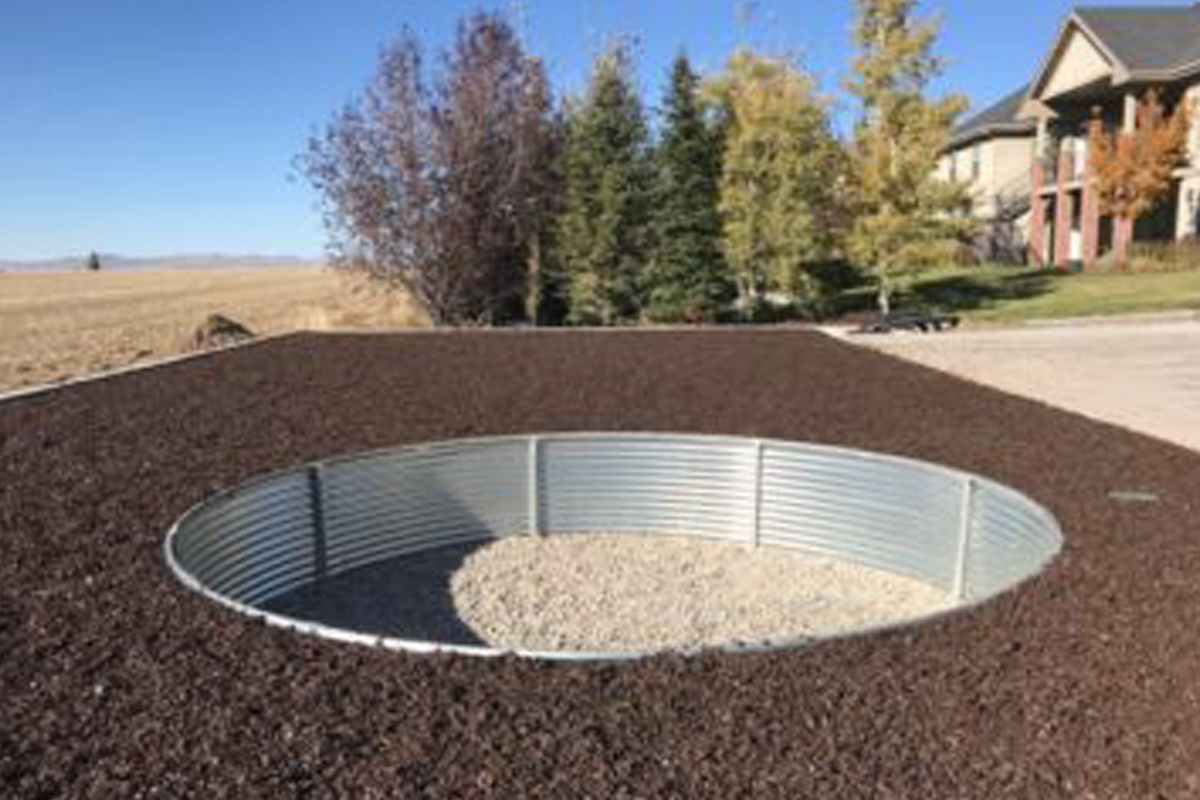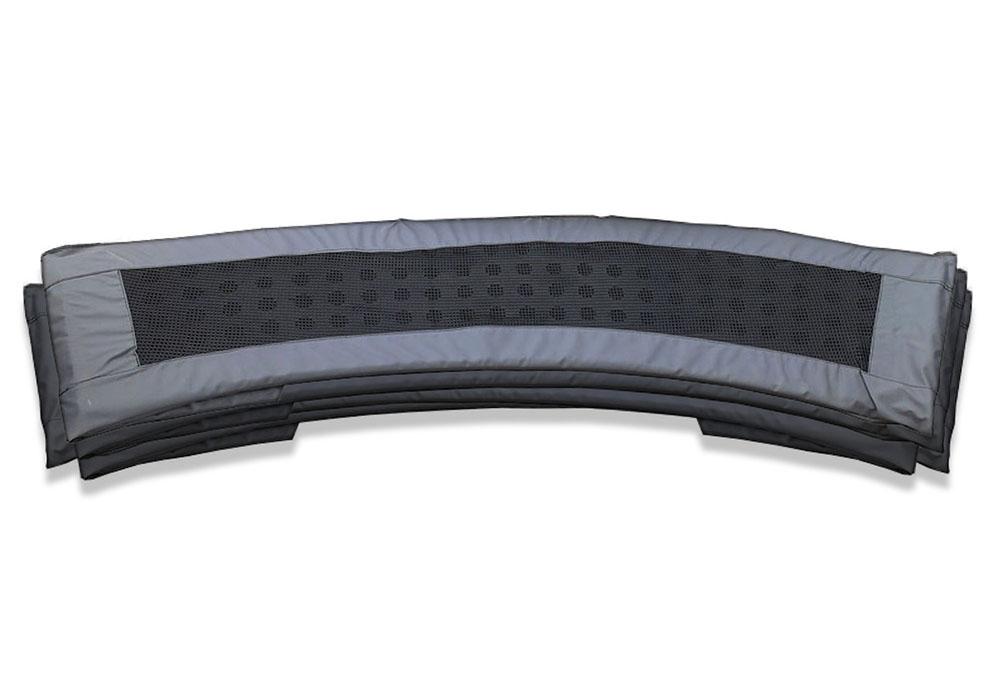 Trampoline Vented Pad
Trampoline pads are softer barriers placed on top of springs for safety reasons and to prevent objects from falling down between the springs. But with in-ground trampolines, pads can restrict airflow below the trampoline which can hinder a jumper's bounce height and the mat's elasticity.
To resolve this issue, some in-ground trampoline kits offer vented trampoline pads. These are a necessary component if you want to get that height while jumping on the trampoline! The air under the trampoline helps push you back up after jumping for a higher bounce. Some people add in airflow piping when digging out the trampoline hole, but this will be an added expense that will take up more time in the installation process. Pipes will also need more maintenance to remove debris so that air can continue to flow freely. Another option for proper airflow under your in-ground trampoline is digging the hole just a bit wider. But again, this may not be your best option when it creates a tripping hazard along the outer edge of your trampoline.
Instead, try a vented trampoline pad to do the trick. These let air in and out while creating a protective barrier on top of the trampoline springs. They keep things from falling down between the springs and help improve the safety of your trampoline.
Trampoline Net
While in-ground trampolines are safer than above-ground trampolines for many reasons, people can still hit the ground surrounding the cushioning trampoline resulting in serious injuries. Trampoline safety nets are preferred by many families to protect against such safety hazards. The net will stick up, drawing more attention to the trampoline, but that's a price many are willing to pay for improved safety features.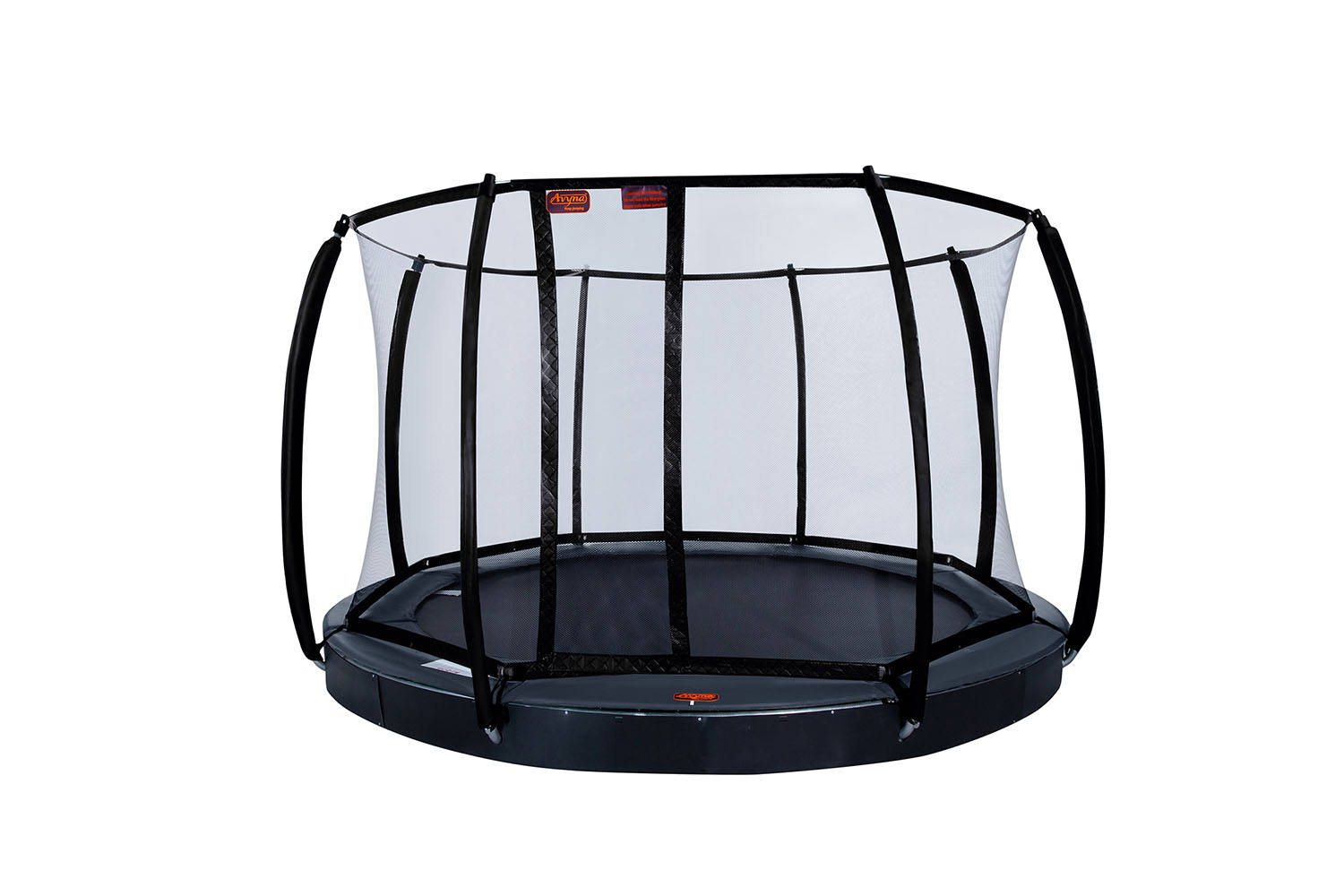 Trampoline Cover
As any Utah homeowner knows, storms will come, and when they do, you'll want to protect your trampoline's surface. This is where a cover can come in handy. The strong material used to create the cover will protect your mat from extreme UV rays and snow, especially with its drainage holes so snow doesn't weigh down the mat.
Buy a trampoline cover to keep your trampoline lasting longer! These can be ideal for Utah winters or anyone wanting to keep their in-ground trampoline in its best condition.
How Much is an In-Ground Trampoline?
Browse our products above to see various costs for in-ground trampoline kits. The ultimate price will come down to the size of the trampoline (14 ft in-ground trampoline, 12 ft, 16 ft, etc.) and features included in the kit.
Buyers should also factor in the cost for installing the in-ground trampoline. Unlike an above-ground trampoline, you won't be able to just put together the pieces and call it good. The whole premise of an in-ground trampoline is to place it below ground or at ground level making it more discreet and safer for families.
Visit our In-Ground Trampoline Installation page for more information or contact our trampoline installers to request a quote for professional installation services.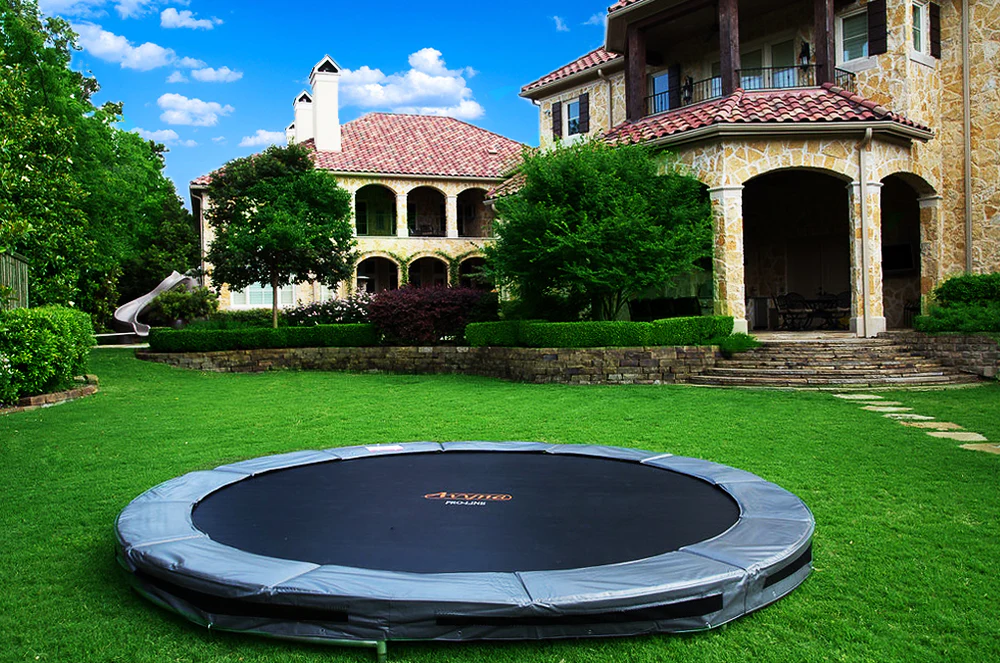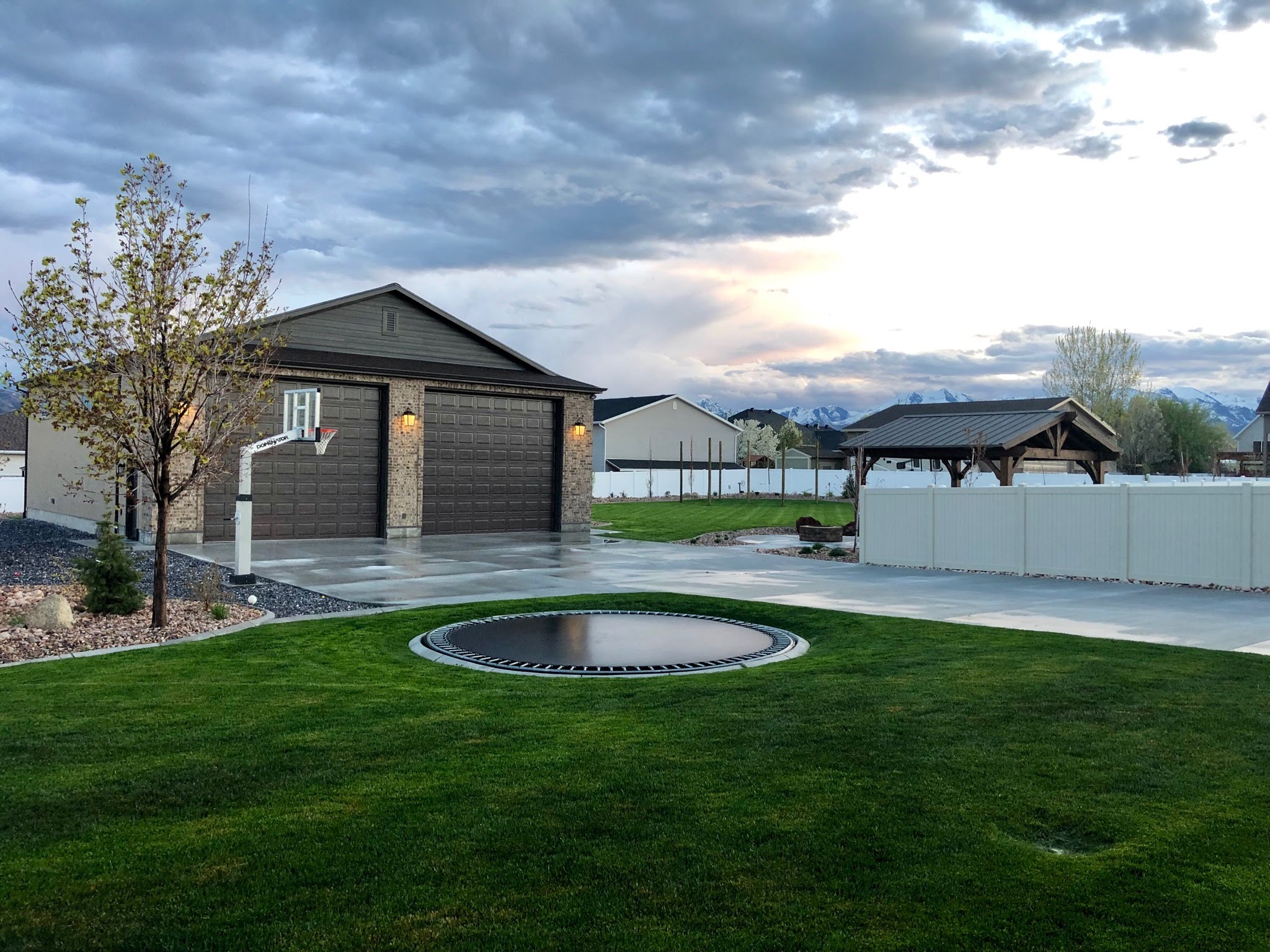 What Are the Best In-Ground Trampolines?
The answer to this question will depend upon what you and your family are looking for in a ground level or underground trampoline kit. Will safety be the biggest deciding factor? Or bounce height? Ease of installation?
We recommend determining which characteristics and features matter most to you, starting with the trampoline parts mentioned above. Talk with our trampoline experts if you're still unsure about the size of trampoline or features that will be best for your family.