Trampoline Holes Utah
Helping install in-ground trampolines and excavate trampoline holes for Utah homes
Professionally Excavated Trampoline Holes
Looking to dig a trampoline hole in the ground? Let our professional team do the work for you! We'll carefully dig out the spot for your family's trampoline, put retaining walls in place, and install the in-ground trampoline itself.
Start enjoying your secure and stable trampoline sooner. Call or contact Trampoline Holes Utah to receive a free estimate for your in-ground trampoline installation!
What Is an In-Ground Trampoline?
Unlike traditional trampolines placed above ground, an in-ground trampoline, as the name suggests, has its frame below or at ground level. A hole is dug to fit the size of the trampoline's circumference while being deep enough for its metal frame.
Read more about the different components of an in-ground trampoline and how to find the best ones on the market.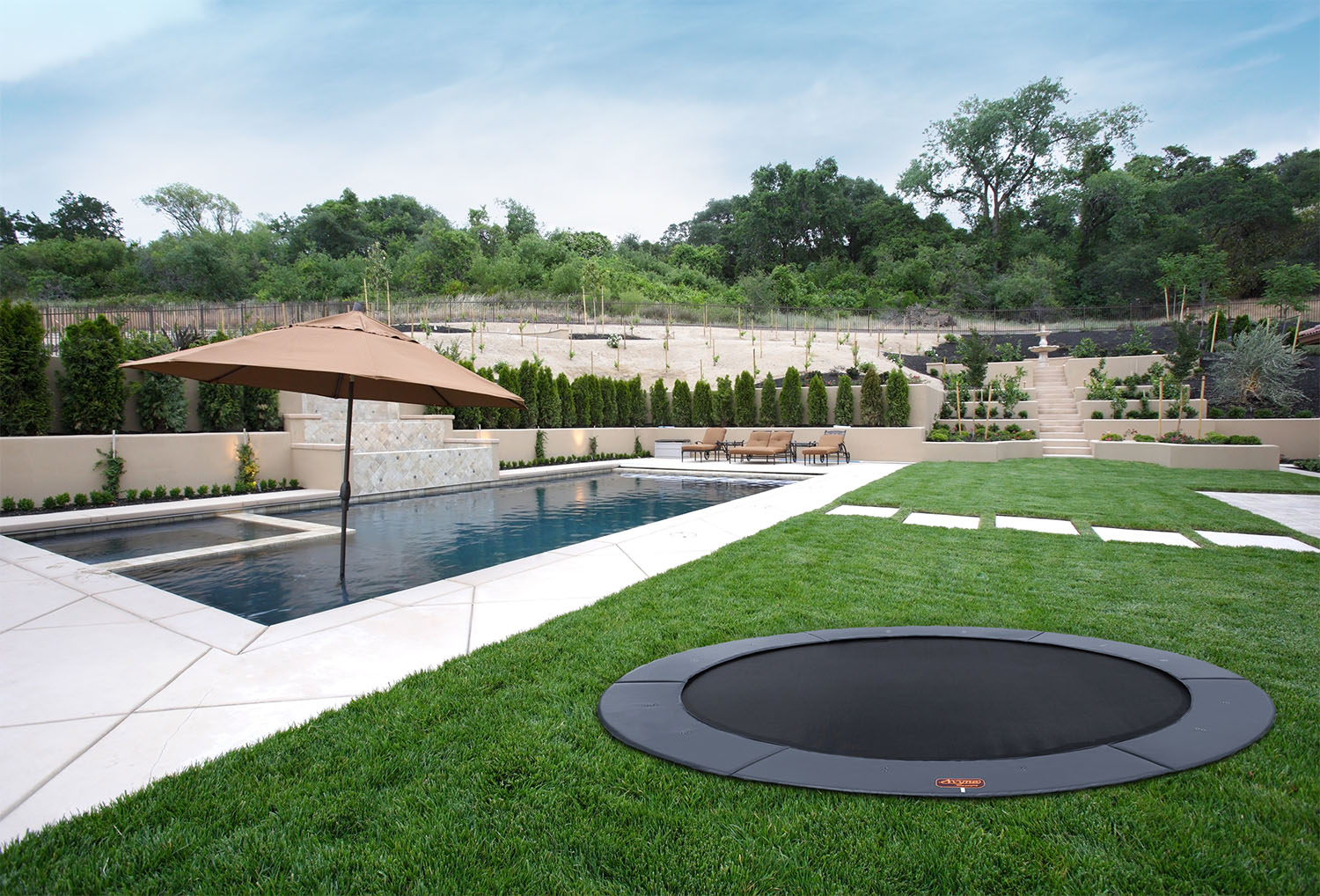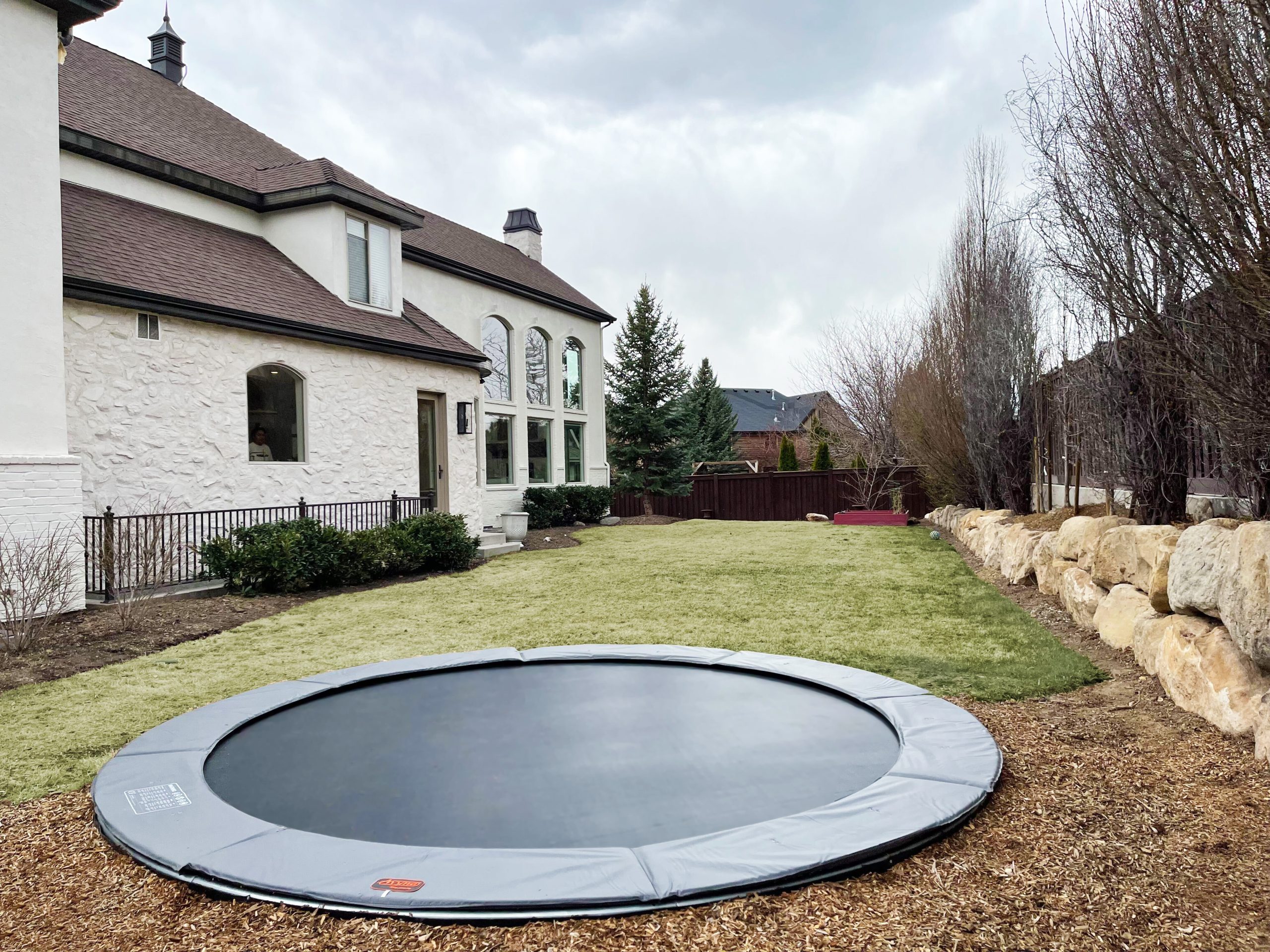 Why Bury Your Trampoline?
What's the point behind trampoline holes and is all that effort to bury your trampoline even worth it in the end? When it comes to safety, appearance, maintenance, and protecting your trampoline investment, the answer to those questions is a firm, "Yes!"
Check out our in-depth guide on installing a trampoline in ground vs. above ground! Learn more about the benefits behind an in-ground trampoline.
View In-Ground Trampolines for Sale
Check out some of our in-ground trampolines for sale if you're considering moving the fun to a below ground site. We've got everything you need from complete in-ground trampoline kits to specific parts including vented pads, safety nets, and covers.
In-Ground Trampoline Services
Trampoline Holes Utah offers a number of services to get your in-ground trampoline ready for use! Because our company focuses solely on installing trampolines, we are able to provide you with a more specialized service than other landscape contractors.
Frequently Asked Questions About Trampoline Holes
We get a lot of questions from customers curious about the logistics behind what we do at Trampoline Holes Utah. Read answers to some such common questions below!
Browse our website for additional information on everything you need to know about in-ground trampolines, retaining walls, and installing trampoline holes in your Utah backyard. Contact us with any other questions you have and request a free quote for our trampoline hole services in Utah!
How Much Does it Cost to Dig Out a Trampoline Hole?
The total cost for a trampoline hole will depend on the size of the hole and the terrain needing to be removed. Other pricing factors are dependent on the trampoline, some which come with a retaining wall, but others that don't. You will need to pay for a trampoline retaining wall whether or not your trampoline kit comes with one and this will also affect the trampoline hole cost.
Call our professional team to receive a free estimate for your particular trampoline hole! We supply our customers with accurate and upfront quotes so that you aren't hit with any unexpected costs.
Are Above-Ground or In-Ground Trampolines Safer?
While in-ground trampolines still come with their safety hazards, they do greatly reduce the risk of many trampoline-related injuries. Visit our Why Bury Your Trampoline? page for more specifics on how in-ground trampolines may be a safer option for you and your family.
Can You Place My Current Trampoline in the Ground?
Yes, but there are also trampolines designed specifically for in-ground installation. These sometimes come with built-in retaining walls instead of the classic metal legs to support the in-ground trampoline.
They also may be built with sturdier materials to withstand the elements for a longer-lasting trampoline. Talk with us about cost and pricing details for installing an in-ground trampoline compared with installing your existing above-ground trampoline below ground.
Do You Do Trampoline Hole Repairs?
Yes, we do! Our team can come in to finish excavating a trampoline hole that was never completed or poorly done as well as repair trampoline retaining walls and other components of your in-ground trampoline.
When you work with Trampoline Holes Utah, you can expect less repairs and a higher quality of service from our experienced professionals!
How Well Does the Trampoline Hole Drain?
Luckily, the dirt in most Utah backyards where we work absorbs moisture well. Although, you may want to place a layer of gravel underneath the trampoline to help avoid periods with standing water after a large storm.
Having a trampoline retaining wall in place will be crucial here as dirt absorbs water. Without a sturdy wall holding up the structure of your trampoline hole, there is a danger of the dirt caving in, especially with lots of rain or snowfall.
What Our Customers Have to Say
Our customers say it all. Check out some of their reviews before seeing what a difference hiring Trampoline Holes Utah can make.

Trampoline Holes Utah did an amazing job on our trampoline project. They were very professional and easy to work with. Not only did they do the trampoline hole, but they were kind enough to remove excess dirt and rocks from around our backyard. They went above and beyond and are very happy with the results.
– Sarah Bush, Eagle Mountain

These guys rock! They made me feel very comfortable about the project. It looks great and they took extra measure to protect our yard!
– Marci Shaffer, Lehi Utah
Why Choose Trampoline Holes Utah?
So much can go wrong with digging out a trampoline hole or installing an in-ground trampoline. The dimensions can be off, the retaining wall not properly installed, the end results not looking clean cut or appealing.
Don't leave your trampoline investment in the hands of untrained or unspecialized professionals. Go with Trampoline Holes Utah! Because we specifically excavate for trampoline holes, we can be more precise with our service for a better looking and functioning in-ground trampoline.
Call or contact us today to request your free quote!